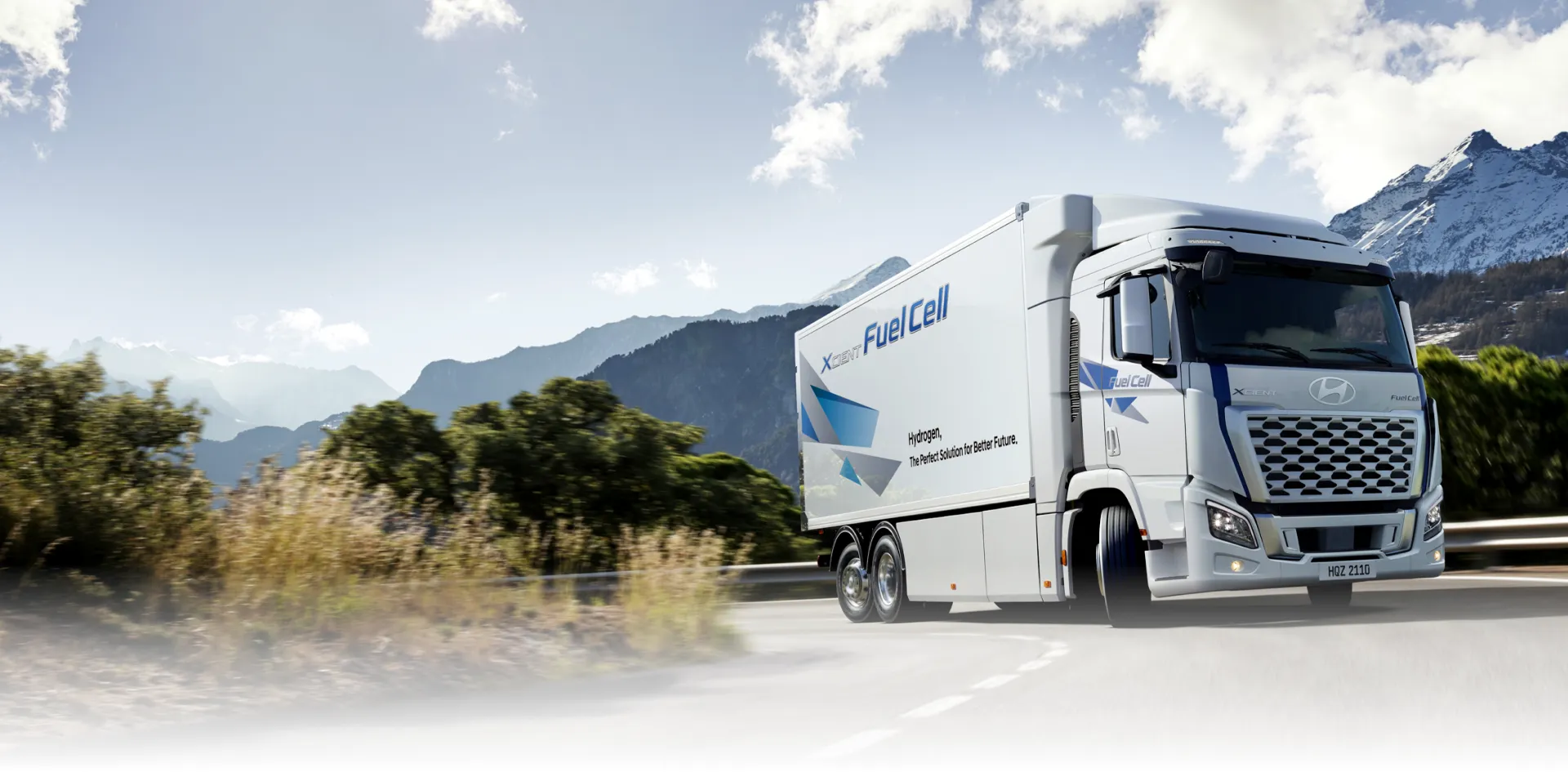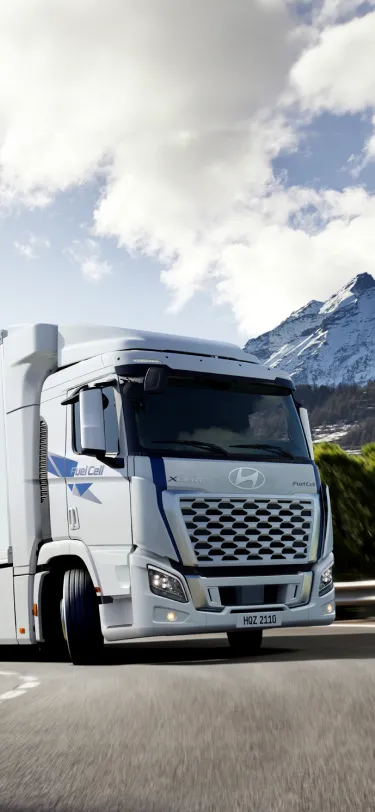 XCIENT Fuel Cell Truck
World's first commercialized fuel cell heavy duty truck
All Electric Range based on internal testing with full load. Range can vary depending on external conditions.
These specifications are based on European models.
Highlights
Uncompromising Performance with Zero CO2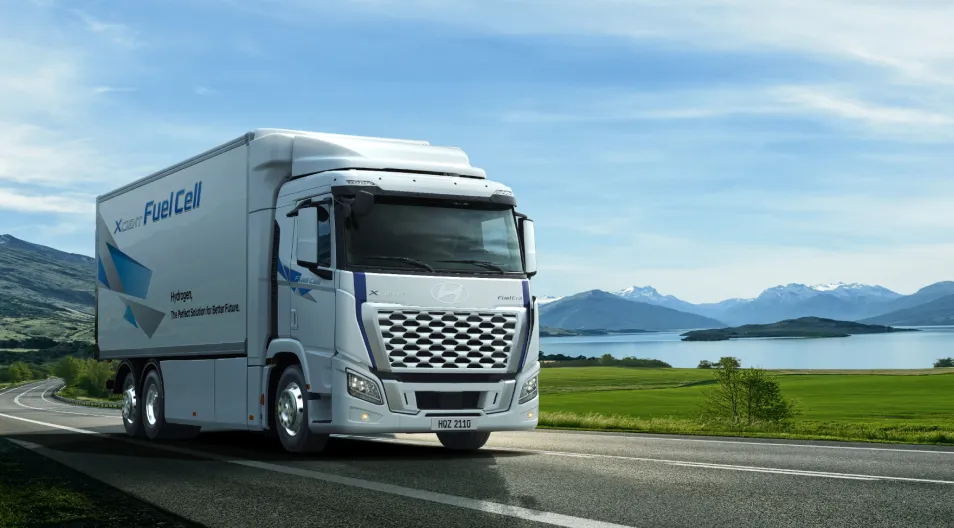 Hydrogen: Proven Superior
Field-Proven Outstanding Performance
In 2020, HMC exported its first consignment (47 units) of hydrogen-powered, zero-emission electrified commercial vehicles, XCIENT Fuel Cell to Switzerland. They are currently in use by logistics, distribution, and retail fleet operators.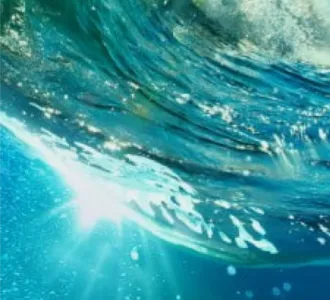 Zero Pollutants: Only H₂O
Pressured hydrogen reacts with oxygen to produce electricity and pure H2O without zero pollutants.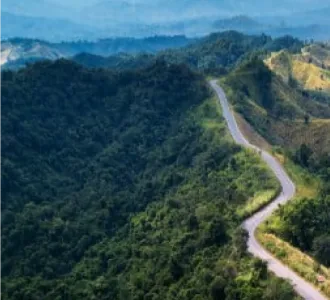 Over 400KM in Real-World Driving
XCIENT Fuel Cell is field-proven to deliver over 400 km on a single charge.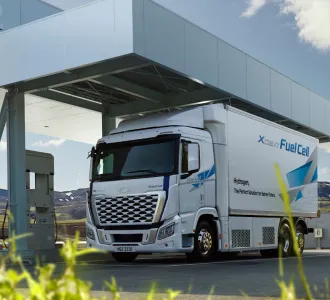 Perfect for All Types of Daily Operation
XCIENT Fuel Cell makes daily operations easier with its high charging efficiency. Refueling is fast and convenient.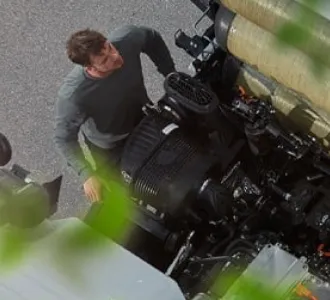 Safety Proven on Swiss Roads
As of September 2023, XCIENT Fuel Cell trucks in Switzerland have logged over 7 million km, without any major safety failure.
Technology
Deliver Solutions, with Your Evolution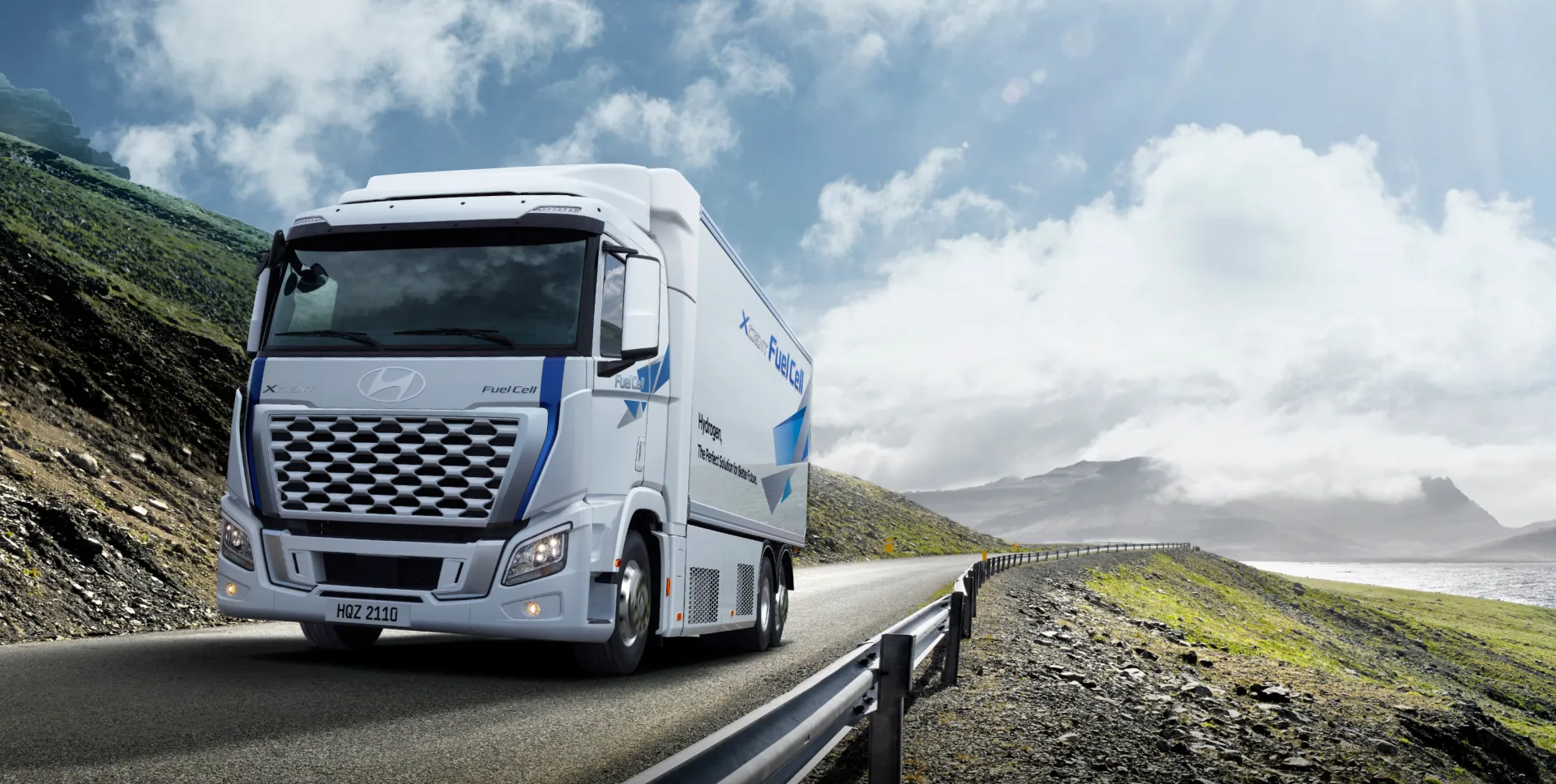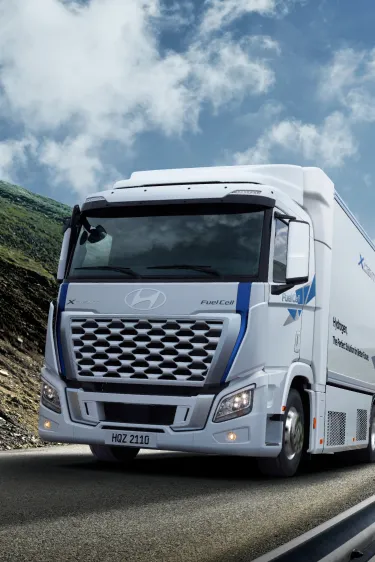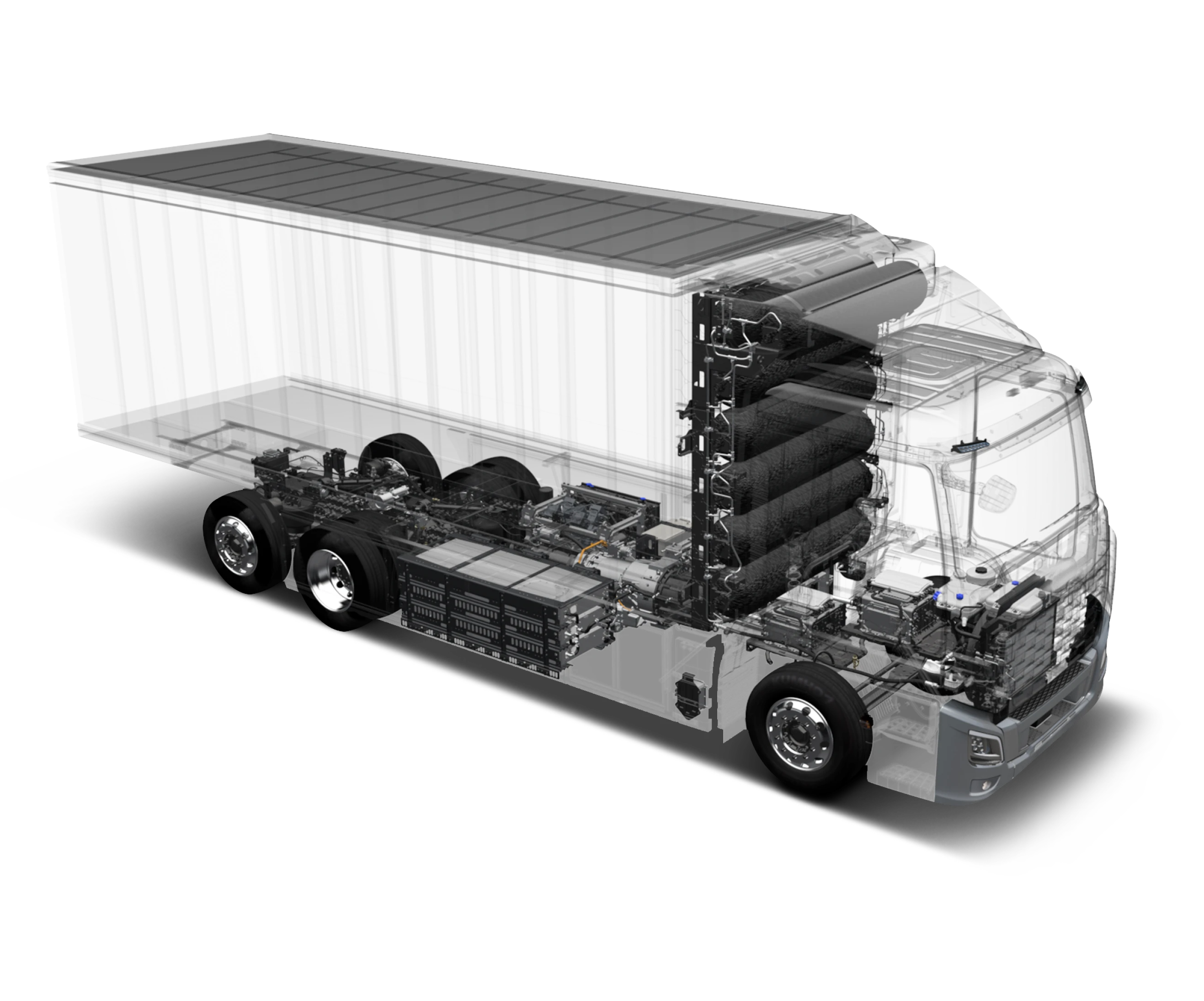 How XCIENT Hydrogen System Works
Hydrogen Tank
FC System
Battery
Motor
Hydrogen tank is the first place where hydrogen reaches when charged. Hydrogen, which starts from here, is converted into electricity through a fuel cell system.
Fuel Cell System that generates the electricity to drive, is also called a 'tertiary battery'. This runs with hydrogen tank, to convert thermal energy into electrical energy.
Hyundai's lithium-ion polymer batteries have a lower memory sensitivity and excellent charge efficiency compared to conventional batteries.
A motor then converts the electricity produced in the fuel cell stacks and stored in the high-voltage battery to kinetic energy. Just like in hybrid and battery electric cars, a regenerative braking system moves electricity back to the battery when the driver uses the brakes, improving fuel economy.

Greater mileage
Over 400km in real-world conditions
You can drive XCIENT Fuel Cell confidently knowing it averages over 400 km on a single charge.

Higher efficiency
Fast and simple charging
With a short refueling time, XCIENT Fuel Cell can travel a long distance, providing the efficiency and flexibility that drivers demand.

Big savings
Eco- and cost-friendly
XCIENT Fuel Cell does not require urea and engine oil, which means lower operating costs.

Stress-free driving
Quieter daily driving
XCIENT Fuel Cell generates minimal levels of noise and vibration for smoother operation and reduced stress and fatigue.
What's Engineered in XCIENT
Front & Rear
Air Suspension
Rear Axle
Steering
Weight Distribution
Graphic Display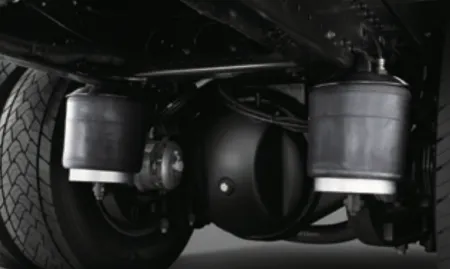 The air-cushioned suspension maintains vehicle stability for improved ride comfort and allows the cargo bed height to be adjusted for easier loading and unloading.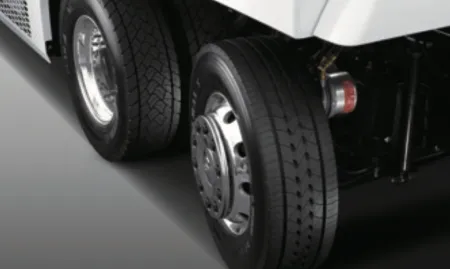 Drop the tag axle to maximize your load carrying capacity or raise it for greater efficiency when transporting smaller loads. It also offers a short turning radius. (6x2)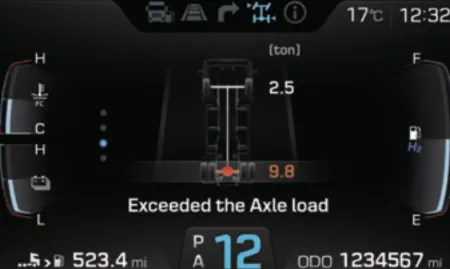 This handy feature lets you keep an eye on the cargo weight distribution over your front and rear axles for safer transport.

Selectable Line-up
Flexbility added
With a choice of the 4x2 or 6x2, you can choose the model that best fits your business.

Lighter Weight
Extra operating capacity
The lighter cabin weight realizes increased cargo capacity and better driving efficiency.

Load More
For driver's needs
Reductions in the cabin weight and new features that protect against overloading help facilitate maximum carrying capacity.

Hydrogen safety
Assured through testing
The hydrogen storage and delivery system is safe thanks to rigorous testing for open flame, ballistic penetration, and exposure to temperature extremes.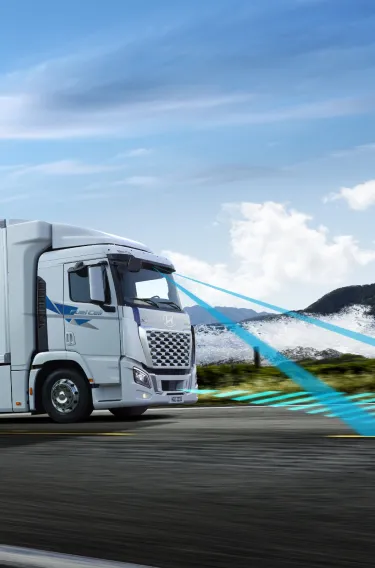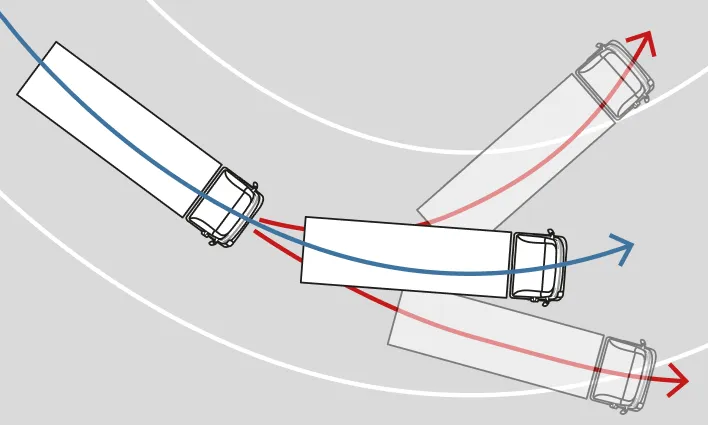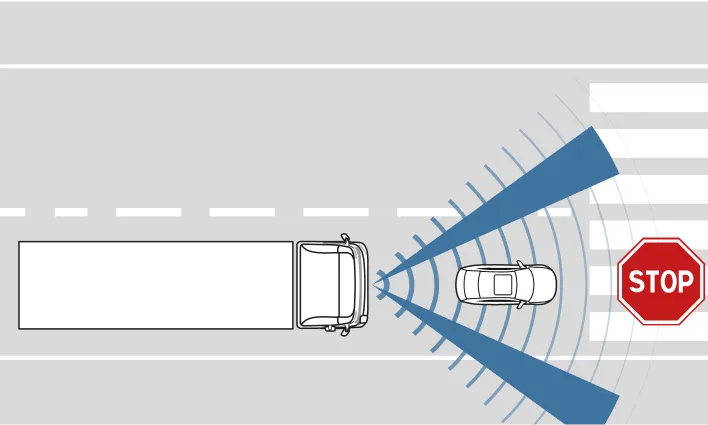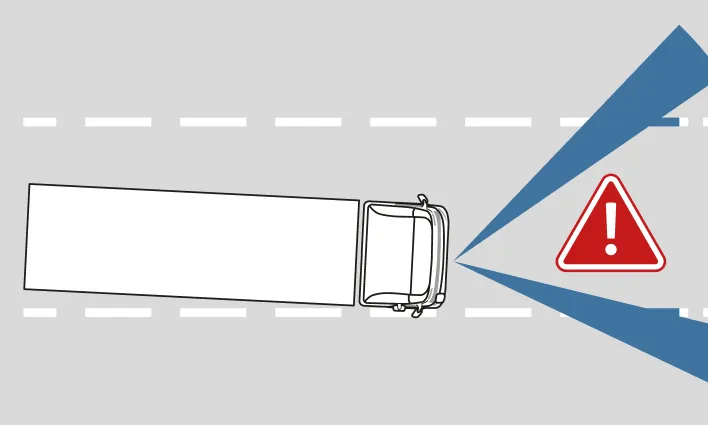 Satety Assistance on XCIENT
Vehicle Dynamic Control (VDC)
In slippery conditions, VDC provides optimal vehicle stability by detecting traction issues and managing torque at each wheel to help maintain directional control.
Forward Collision-Avoidance Assist (FCA)
FCA automatically applies the brakes whenever it detects the risk of a collision with a pedestrian, vehicle, or cyclist
Lane Departure Warning (LDW)
On detecting an unintentional lane departure, the system warns the driver by sending vibrations through the steering wheel.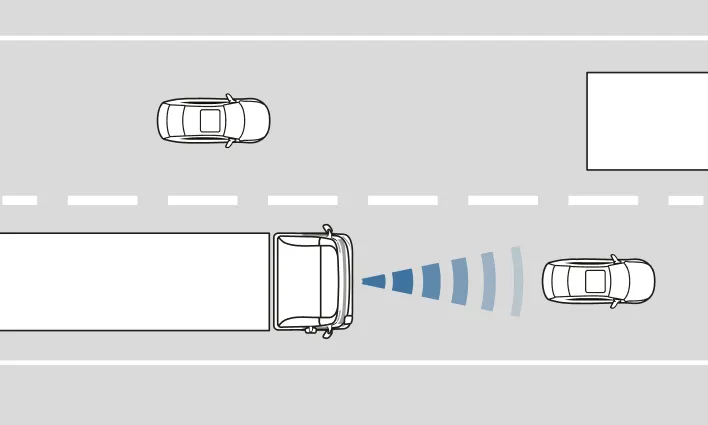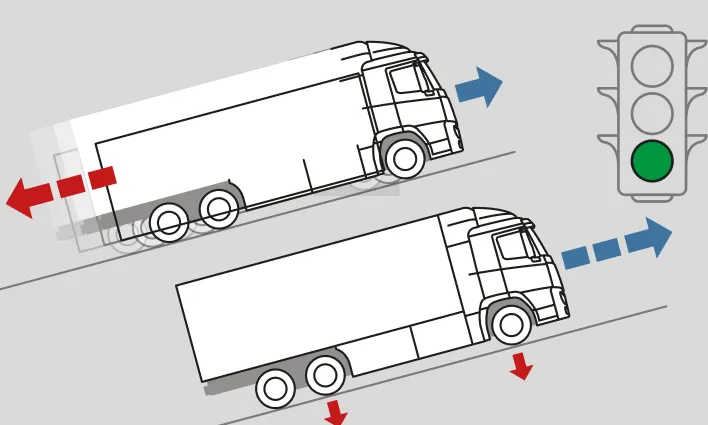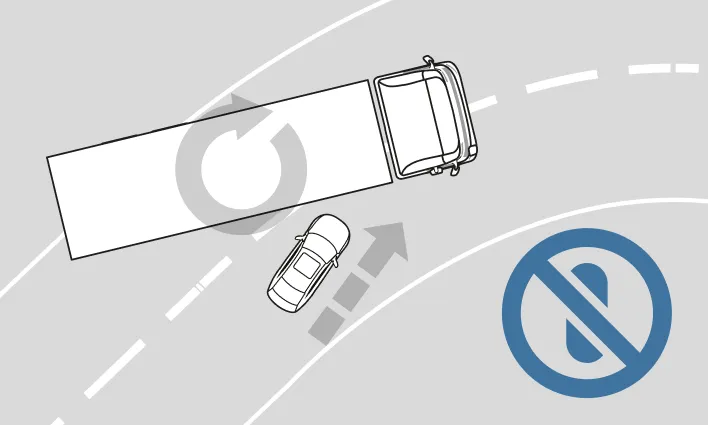 For Driver's Safety
Smart Cruise Control (SCC)
SCC maintains the speed preset by the driver and ensures that you are always a safe distance away from the vehicle ahead.
Easy Hill Start System (EHS)
EHS prevents the vehicle from rolling back when starting on steep slopes, providing safe and easy driving.
When the unavoidable does happen, power is automatically cut off to the high voltage cables, and the hydrogen tank is shut off to minimize the risk of electric shock and secondary events.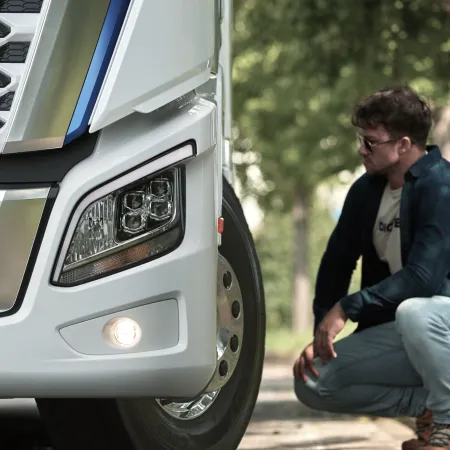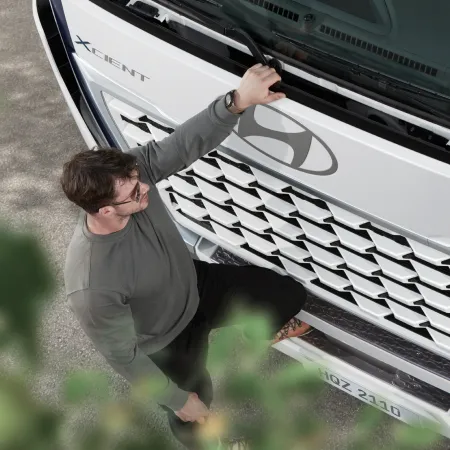 Safety Comes First
XCIENT Fuel Cell makes no compromises in safety matters. Active and passive safety systems provide comprehensive, all-around protection.
Gallery
Good for the Planet, Even Better for You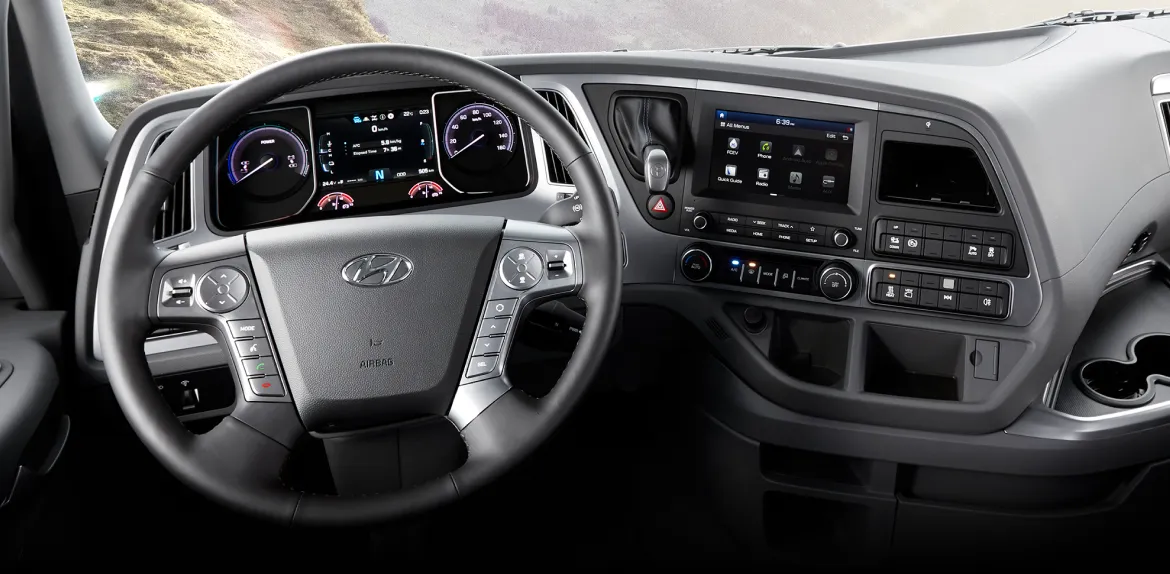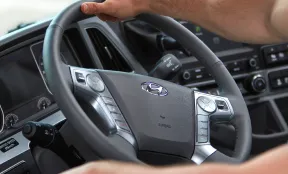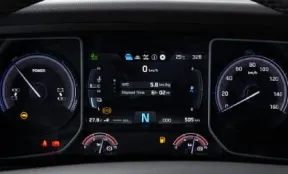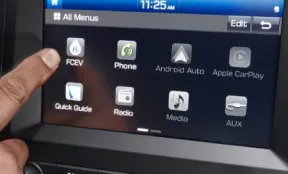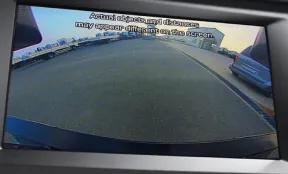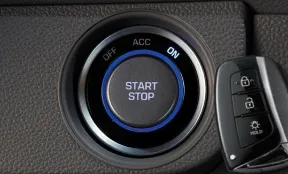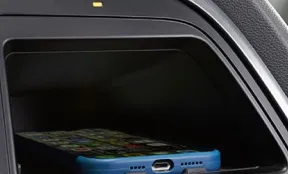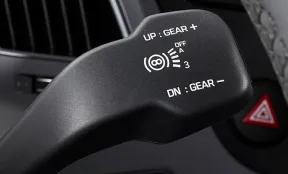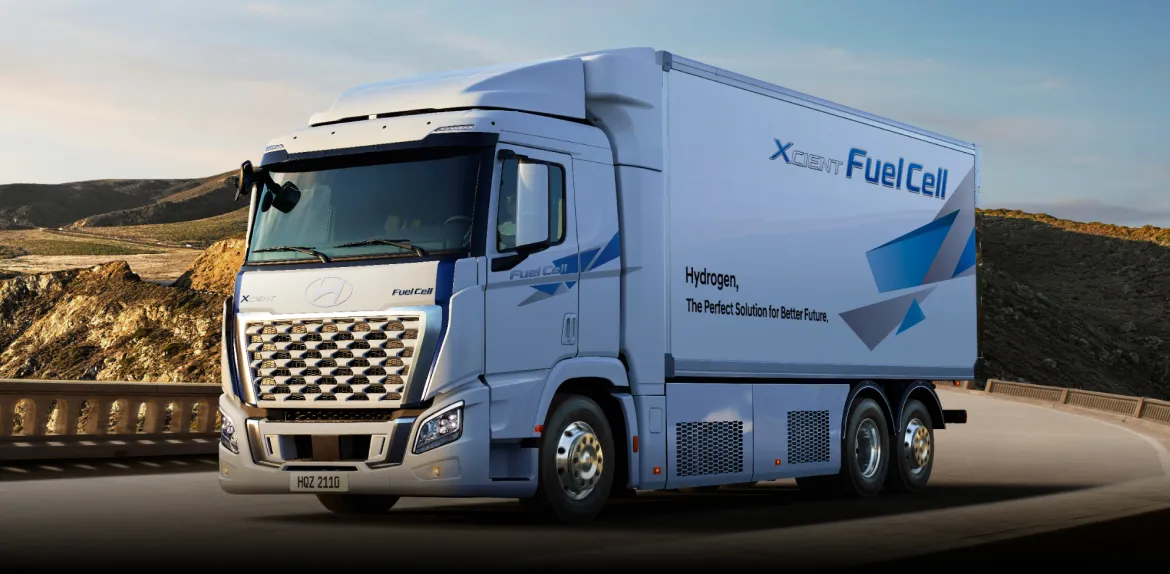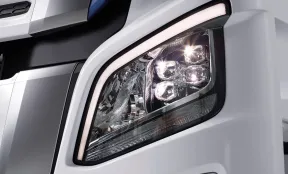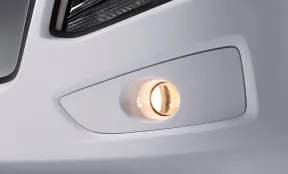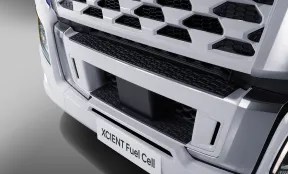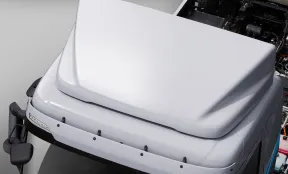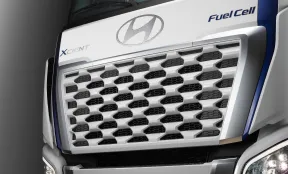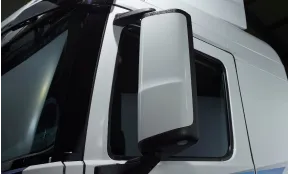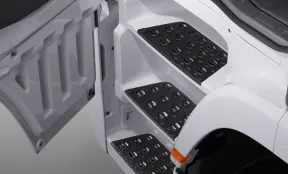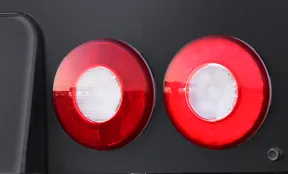 Stylish and Versatile, the
Elongated XCIENT Fuel Cell
The new flush-type front panel and aerodynamic bumper design give the vehicle a
sleek, contemporary look. These modern and eco-friendly adjustments have increased
fuel efficiency by enhancing aerodynamic properties and improved maneuverability by
decreasing the turning radius.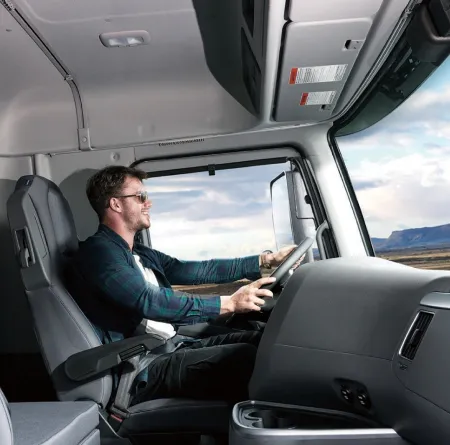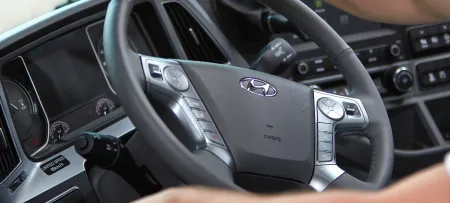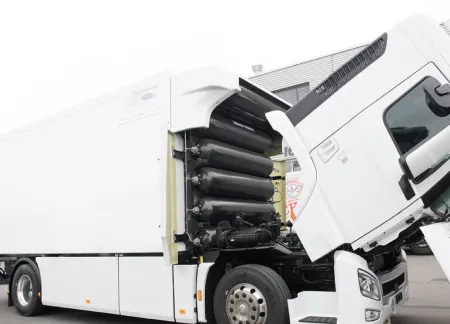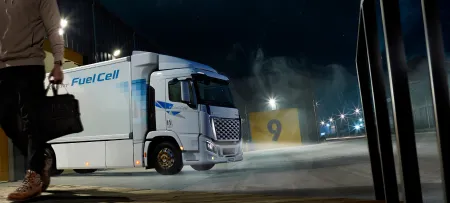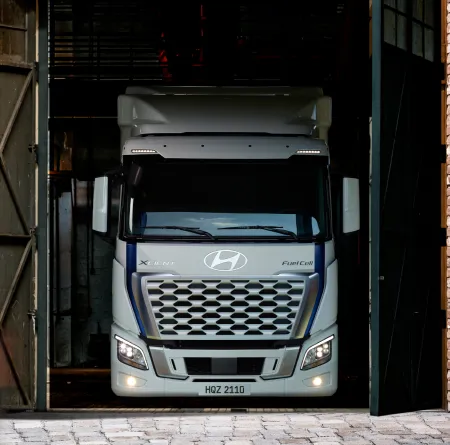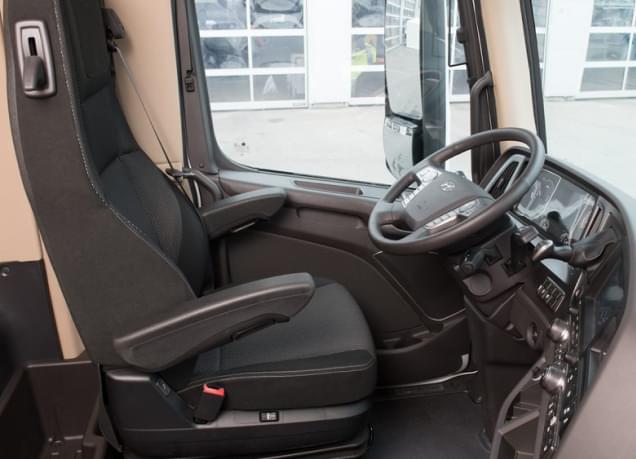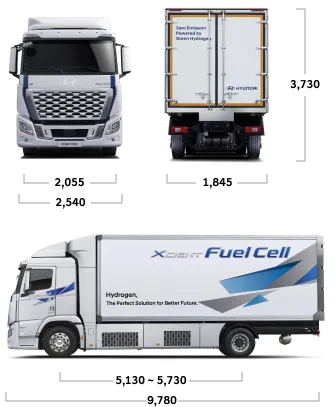 Key Specs
XCIENT Fuel Cell Truck
Electric driven hydraulic tilting
Dimension
3,730mm (With Standard Spoiler) / 3,900mm (With Add-On Spoiler)
Weight
Max gross vehicle weight (Kg)

Front 8,000 Kg / Rear 11,500 Kg

Max gross combination weight (Kg)
Max. GVW includes the front and rear axle loads based on the permissible tire load.

Key Specs
XCIENT Fuel Cell Truck
Electric driven hydraulic tilting
Dimension
Extra long

5,970+1,350 mm

3,730mm (With Standard Spoiler) / 3,900mm (With Add-On Spoiler)
Weight
Max gross vehicle weight (Kg)

Front 8,000 kg / Rear 19,000 kg

Max gross combination weight (Kg)
Max. GVW includes the front and rear axle loads based on the permissible tire load.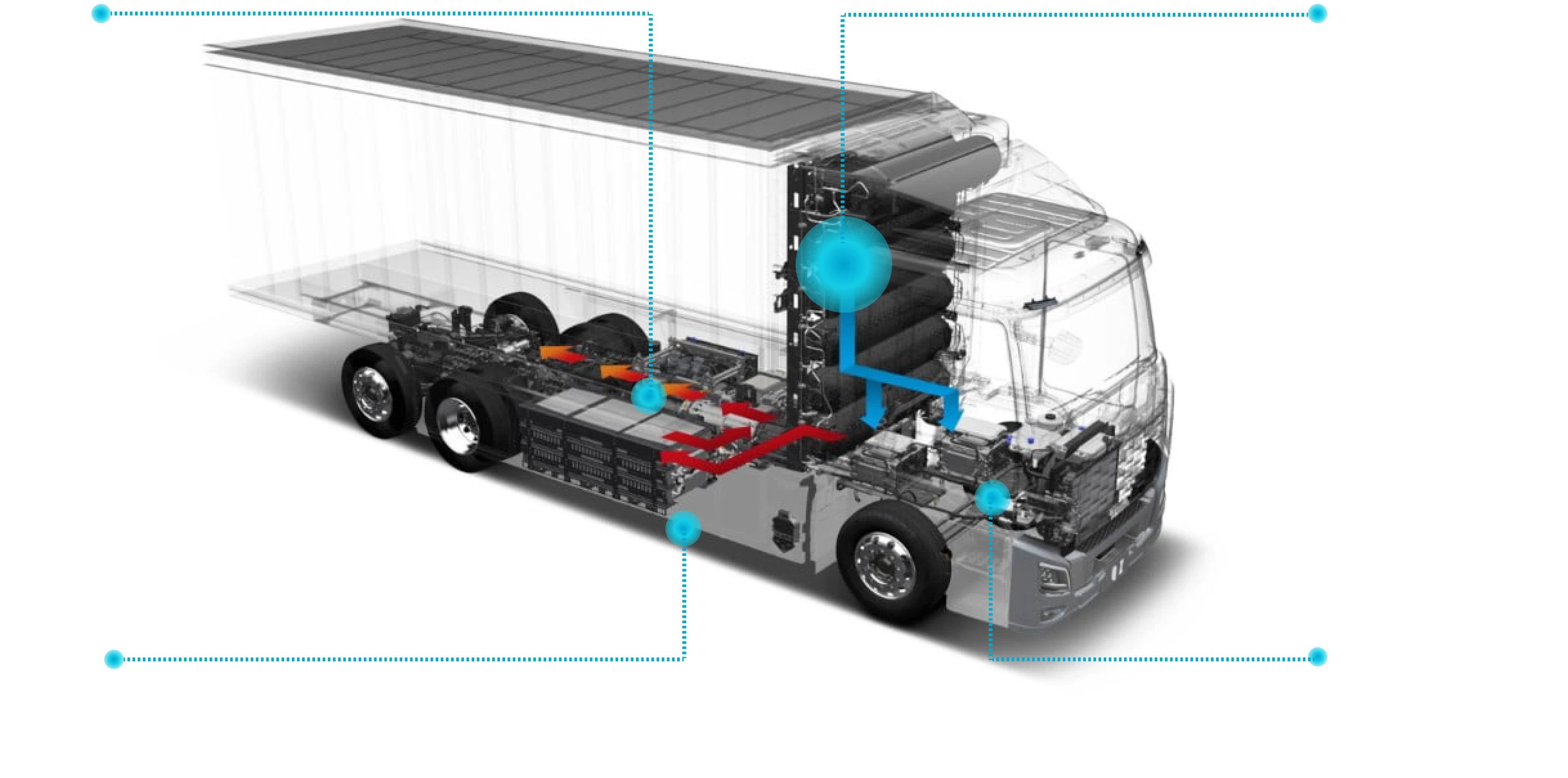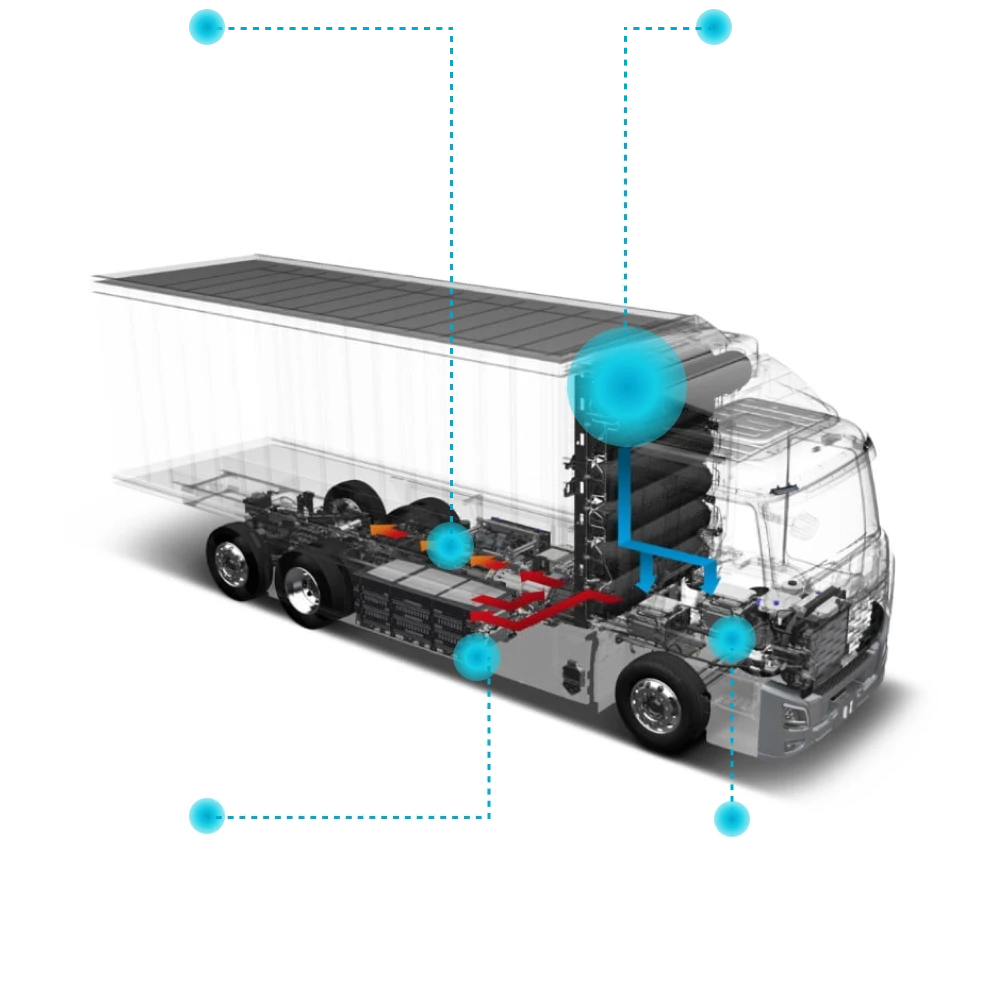 Catalog (Single)

Download
Catalog (Spread)

Download
Digital Catalog

View online
All designs, colors, features, and specifications shown and described in the contents of this website are provided for a general customer understanding and may differ from the actual product.