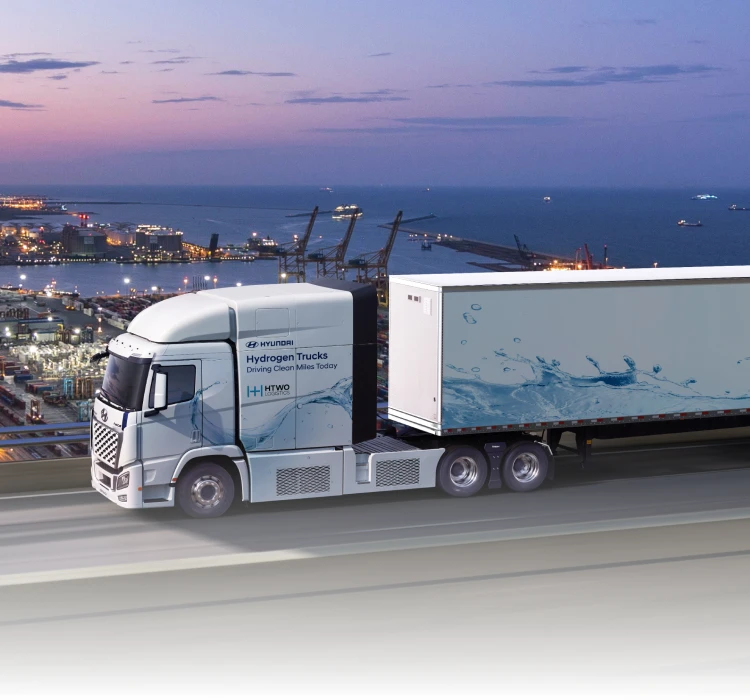 Global Business
Making a Positive Impact in the World
Business Cases in America
Strong Commitment to Climate Goals and
Starting Actual Transitions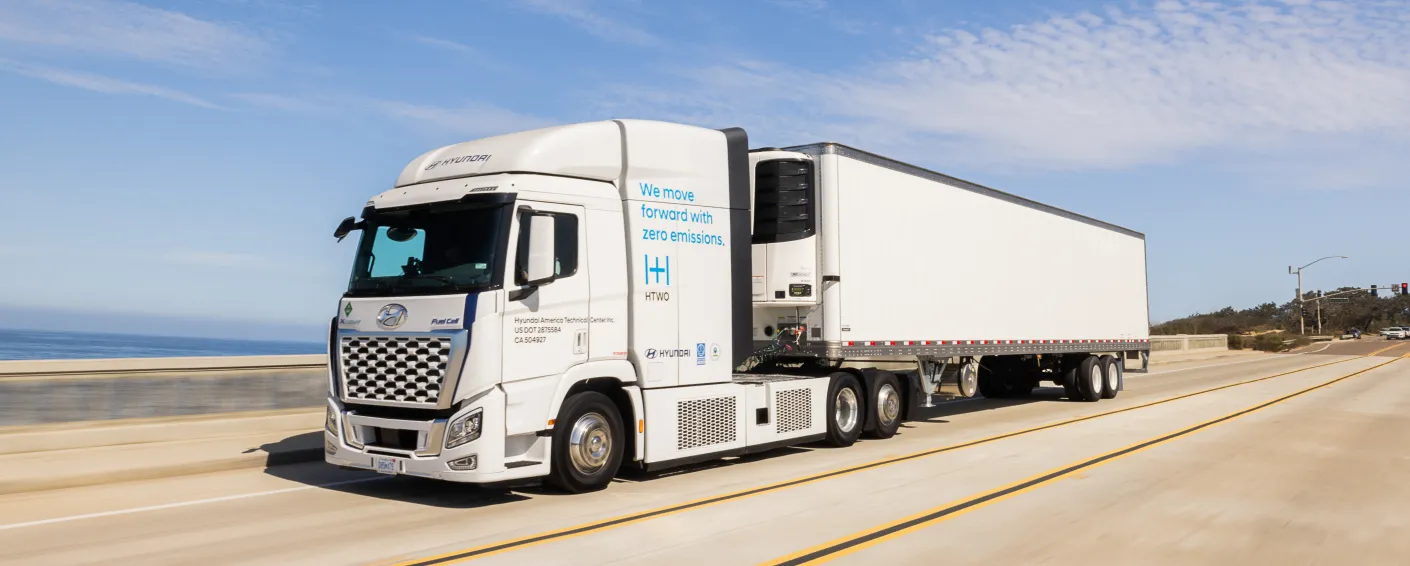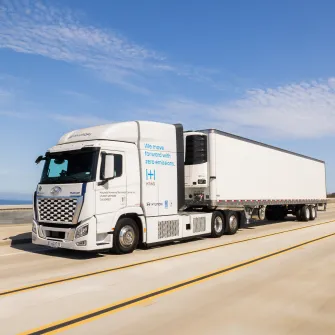 Hyundai Motor Company launched XCIENT Fuel Cell Tractor model for the US market. The first deliveries and major business are being conducted in the West Coast, especially California. California is one of the most ardent states to embrace green initiatives, with bold climate objectives. Hyundai's electrified commercial vehicles business can play a key role to support this transition.
United States
NorCAL ZERO Project
Hyundai has shipped 30 units of XCIENT Fuel Cell Tractor to the US for the operation at the Port of Oakland. The project is known to be the largest class 8 hydrogen truck port deployment in the States currently.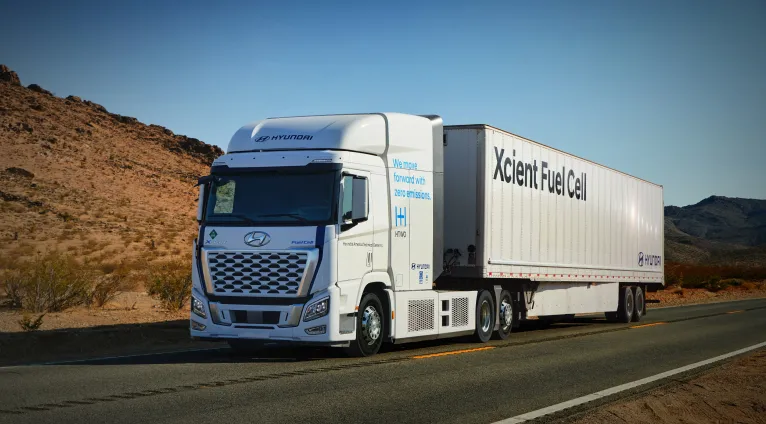 United States
EPA TAG Project
Environment Protection Agency (EPA) Targeted Airshed Grants (TAG), secured by SCAQMD (South Coast Air Quality Management District), was awarded to deploy 5 units of XCIENT Fuel Cell Tractors in California. The Tractors will be operated in Southern California.
Business Cases in Europe
Europe Shows How It's Done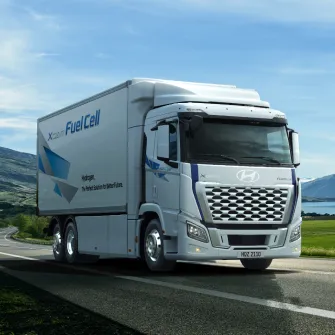 Zero-emission commercial transport has been a reality in Switzerland and Germany. Hyundai Motor
Company delivered the world's first commercialized heavy-duty fuel cell trucks to Switzerland in 2019,
building a self-sustaining value chain. Over time, the European government proposed a strong
commitment to the environment, supporting the launch of XCIENT Fuel Cell Truck in Germany.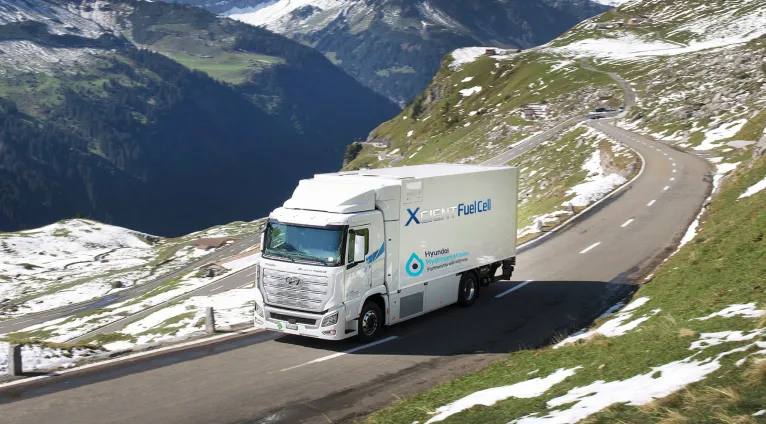 Switzerland
First Commercial Delivery of XCIENT Fuel Cell
Hyundai made history in 2020 when 47 units of XCIENT Fuel Cell Truck— the world's first mass-produced, heavy-duty hydrogen fuel cell truck—were delivered to Switzerland. This delivery made the completion of the European hydrogen value chain, with the development of a growing FCEV infrastructure. Hyundai's delivery completed hydrogen value chain in cooperation with Switzerland's hydrogen solution firms, power-generating plant authorities, charging station operators, and fleet operators.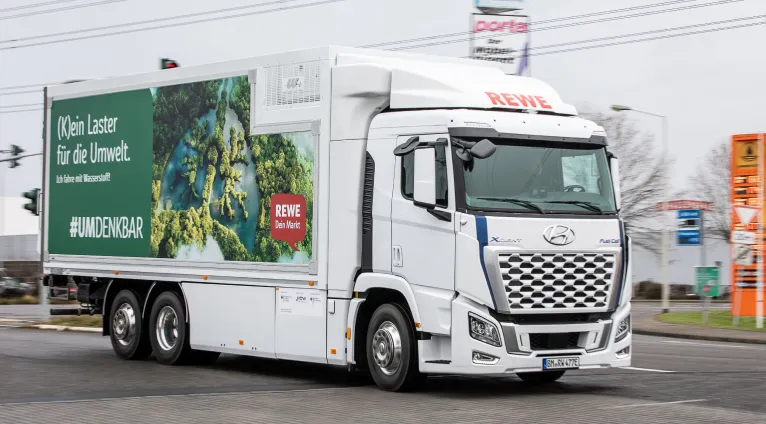 Germany
BMDV
Funded Delivery 2022~2023
With the support of Germany's Federal Ministry for Digital and Transport (BMDV), 44 XCIENT Fuel Cell trucks have been delivered to Germany. (as of October, 2023) Prominent German fleet operators have put XCIENT Fuel Cell Truck into operation, presenting new sustainable energy.
Also, the trucks have even been enhanced to meet the requirements of European fleet operators.
BMDV (German Federal Ministry for Digital and Transport, Bundesministerium für Digitales und Verkehr)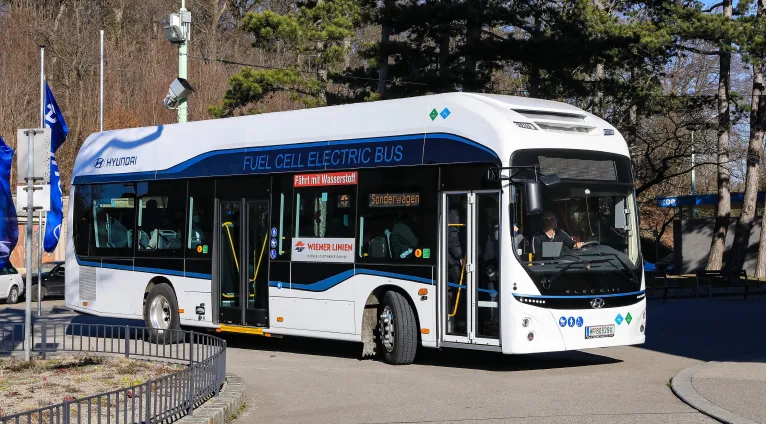 Austria
ELEC CITY Fuel Cell Enters Into Commercial Operation in Austria
Hyundai's ELEC CITY Fuel Cell buses have been delivered to the Austrian public transportation firms and have started operation on the busiest routes in downtown Vienna and Graz. The ELEC CITY Fuel Cell buses have been deployed on regular bus routes, replacing conventional buses, for the first time in Europe. Hyundai has proved its advanced technologies by operating ELEC CITY Fuel Cell in Austria, where it is known for one of the strictest standards for bus safety and specifications.
Business Cases in Middle East & Africa
Growing Interest for Future Technology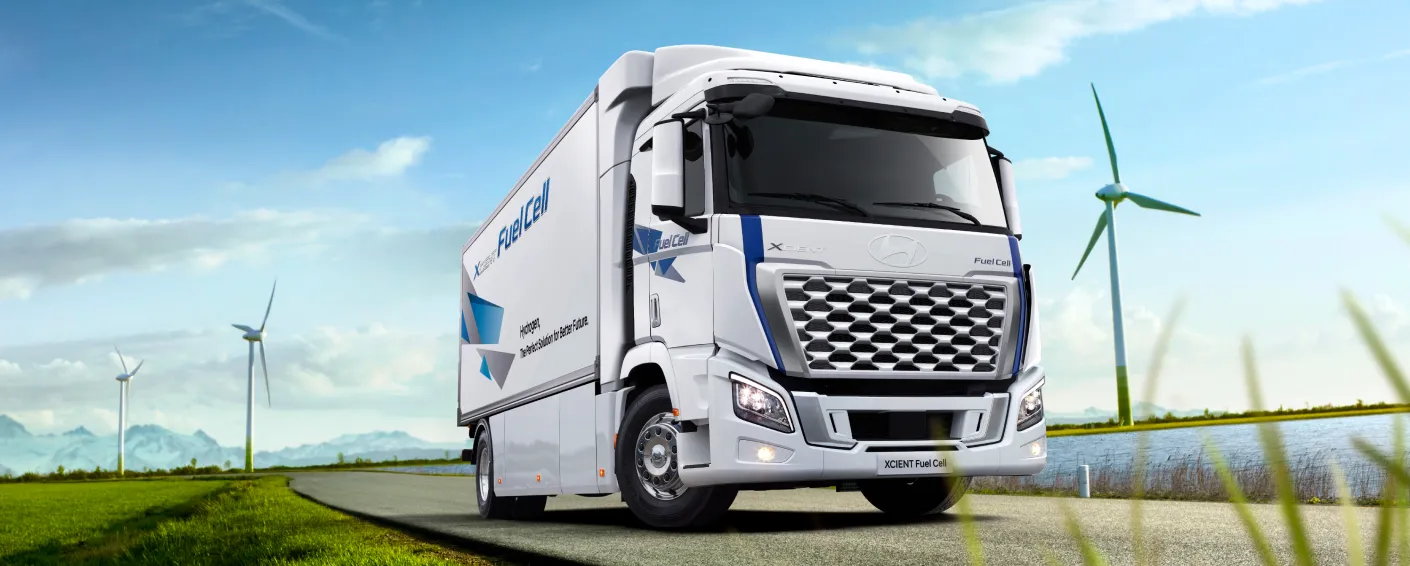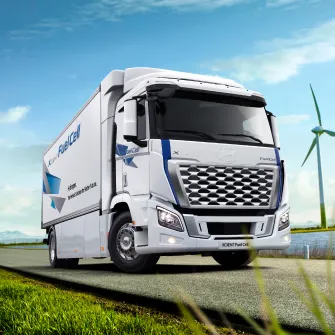 The Middle East region's strong interest in alternative energy can come as a surprise, given that the region holds some of the world's largest oil reserves. Witnessing the gradual phase-out of coal by cleaner energy alternatives, the region is keenly aware that the same can happen to oil. Hyundai Motor Company is confident that its electrified commercial vehicles lineup can make a real contribution to accelerating the Middle East's transition to zero-emissions energy. HMC is thrilled to support the region's strong commitment to building a sustainable future.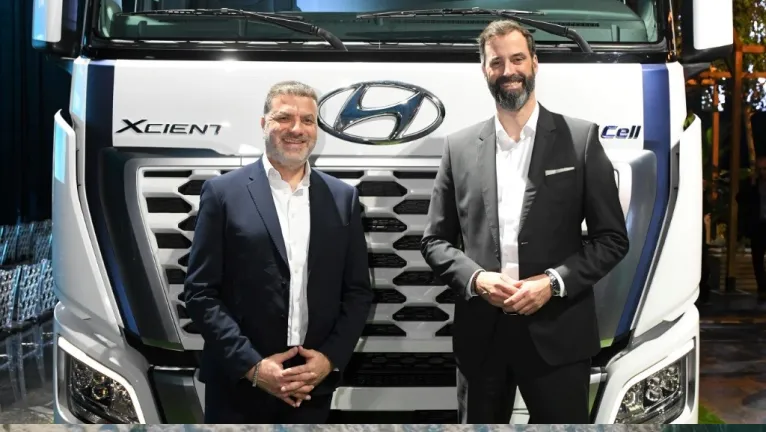 Israel
XCIENT Fuel Cell Truck Launches in Israel
Three units of XCIENT Fuel Cell Truck were delivered to Israel as part of a partnership to establish a hydrogen value chain in Israel. The trucks are now in a joint operation program that includes Hyundai's Israeli distributor Colmobil, hydrogen producer Bazan, and hydrogen refueling station operator Sonol.
Business Cases in Asia
Home to Hyundai Motor Company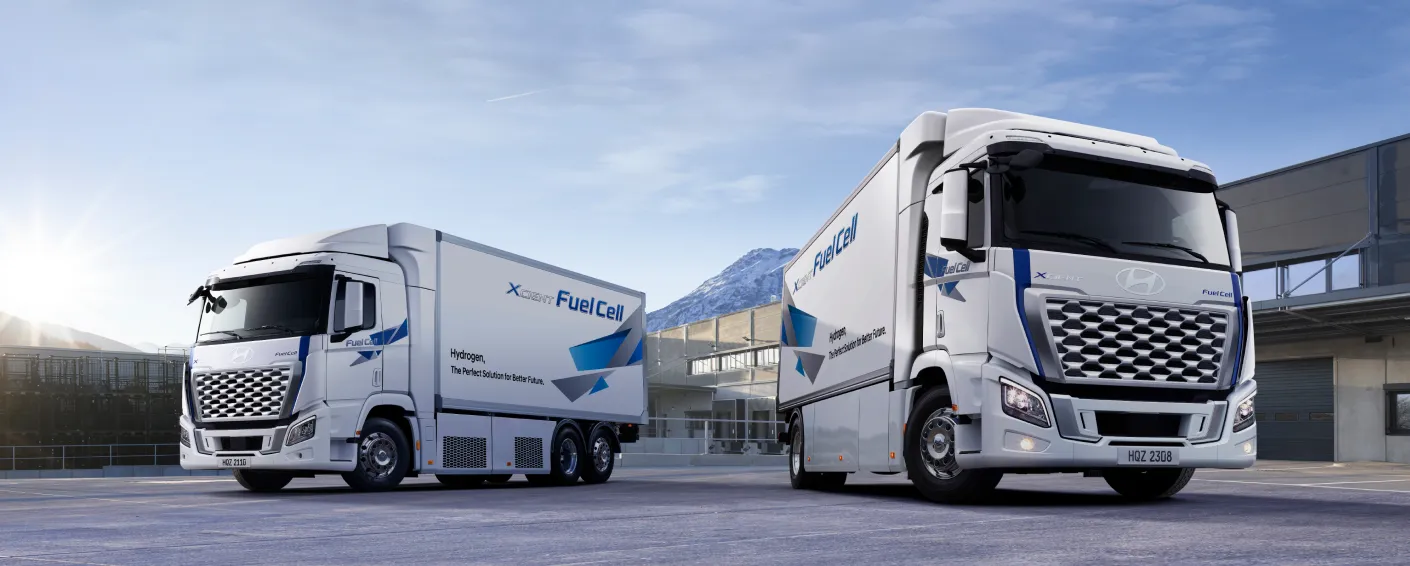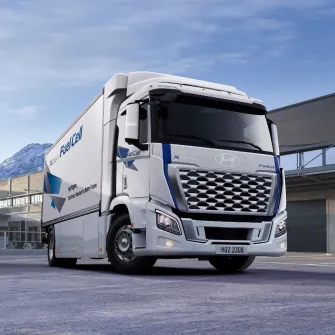 Korea-based Hyundai Motor Company is recognized as a global automotive leader. Like an iceberg below the surface, the size and scope of its domestic operations are less readily visible to overseas observers. Hyundai Motor Group is engaged in a wide range of industries with diverse product offerings, including electrified commercial businesses, which are just beginning their overseas expansion.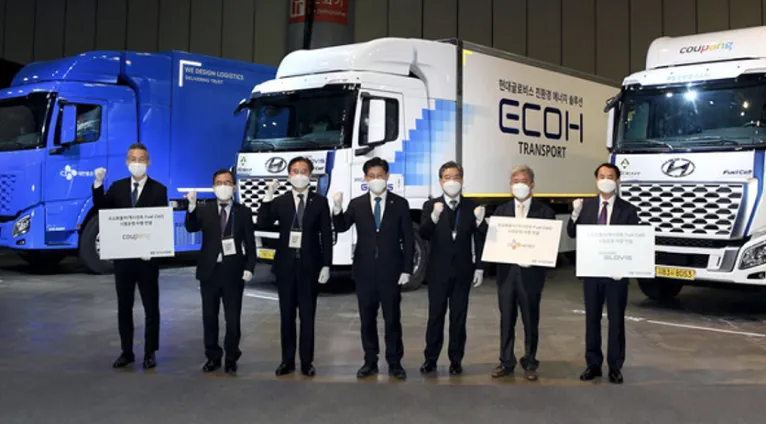 Korea
Local Logistics Firms Opt for XCIENT Fuel Cell
Coupang, Glovis, and CJ Logistics were among the prominent logistics companies that took delivery of 5 XCIENT Fuel Cell Trucks.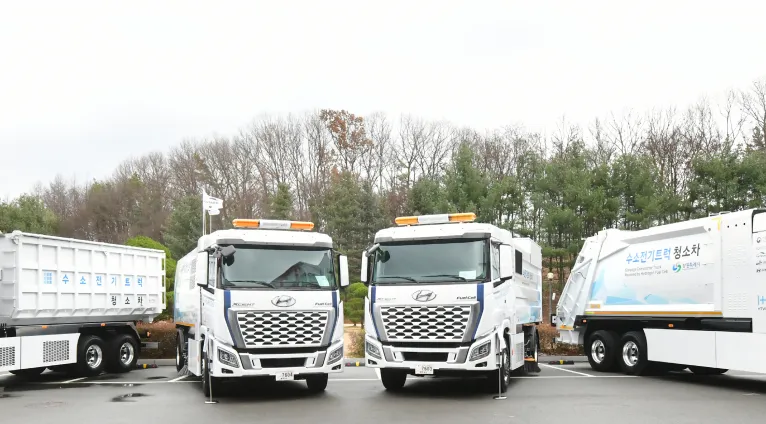 Korea
Seoul Metropolitan Government & Korea Automobile Research Institute
Following the successful commercialization of the XCIENT Fuel Cell Truck, five units were handed over to key government partners, including the Seoul Metropolitan Government and the Korea Automobile Testing & Research Institute (KATRI).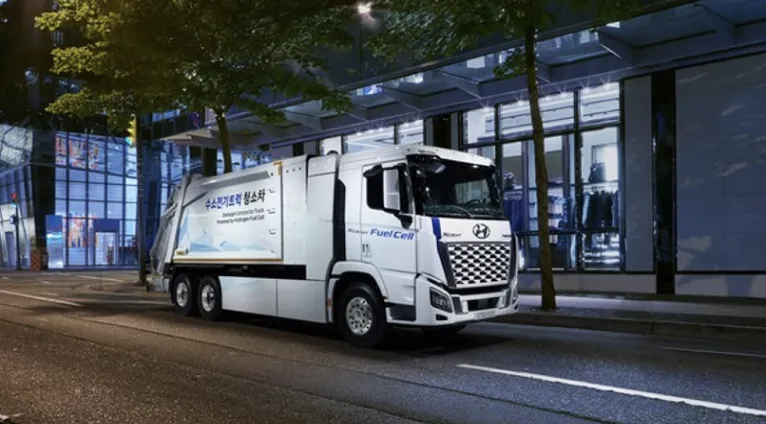 Korea
Solid Waste Truck Prototype
Four XCIENT Fuel Cell Trucks refitted as solid waste collection trucks were delivered to local municipal sanitation authorities in Seoul, Changwon, Chungju and Busan.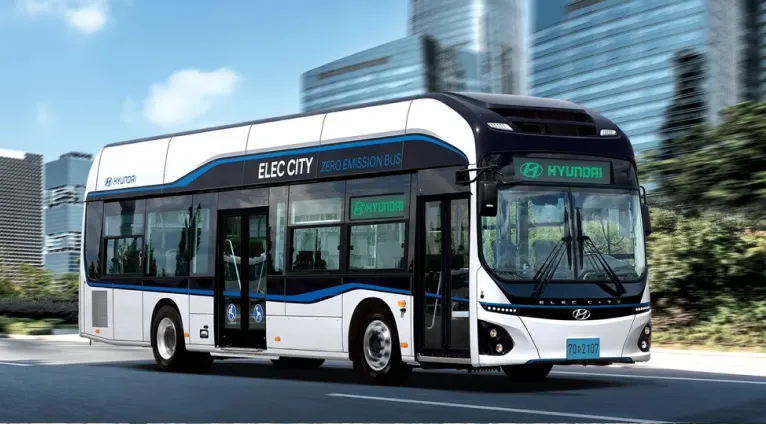 Korea
Municipal Clean Bus Program Expands
The deployment of the ELEC CITY BEV (Battery EV) and FCEVs as public buses is ramping up in major metropolitan centers, including the capital Seoul, Busan, Ulsan, Daegu, Incheon, Gwangju, and Daejon. ICE buses are rapidly being replaced by BEV and FCEV versions, as exemplified by Seoul's 2023 Electric Bus Deployment Project. With its long-range, ELEC CITY also operates on inter-city bus routes in Korea, including service as an Incheon Airport shuttle bus.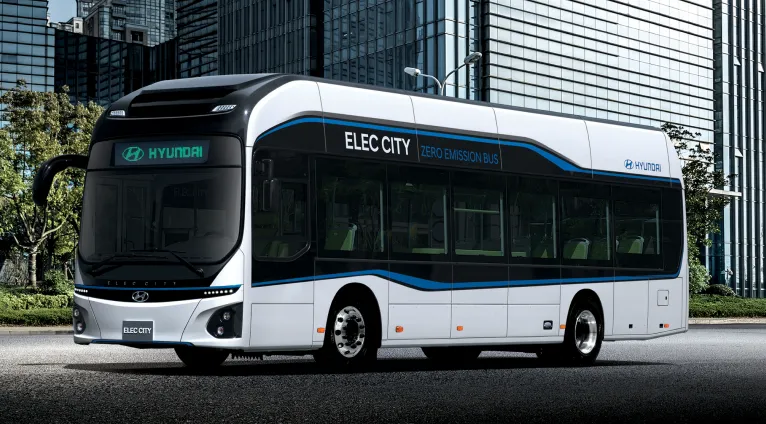 Korea
Sejong Chooses ELEC CITY
A total of 20 units of the ELEC CITY were delivered and are currently operating in Sejong, Korea's new administrative city south of Seoul. Initially, a contract for 12 ELEC CITY buses was awarded, but this was subsequently expanded to an additional eight units that were delivered and entered operation in 2020. Smaller cities are finding the transition to BEV a more economical alternative than natural gas-fueled bus fleets.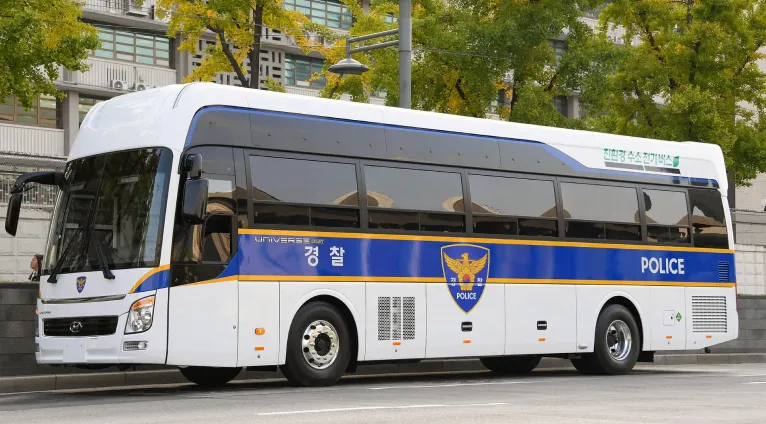 Korea
Korea's Police Bus
The initial delivery of a UNIVERSE Fuel Cell bus was made to the Korean Police Force as the Fuel Cell Electric Vehicle had a clear advantage during protracted idling periods while providing air conditioning and electricity inside the cabin for the law enforcement personnel without zero emissions.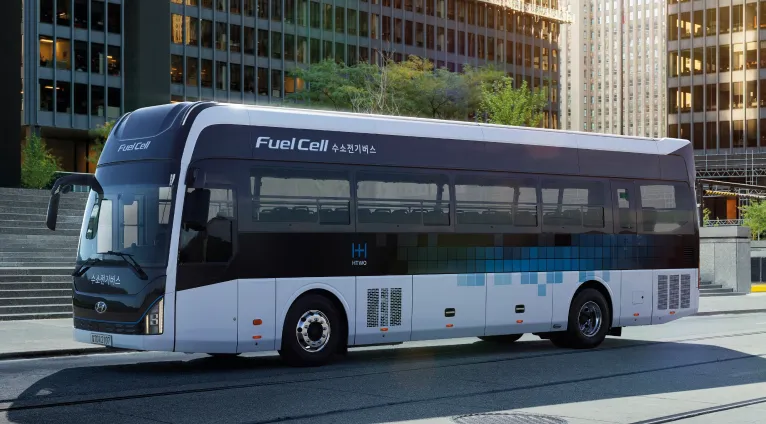 Korea
Ministry of Environment and Local Government
UNIVERSE Fuel Cell, the first full-size express bus powered by hydrogen fuel cell technology, was delivered to Korea's Ministry of the Environment. Busan and Ulsan municipal authorities and the provincial authorities of Gyeongnam have quickly adopted the Universe Fuel Cell.
Business Cases in Oceania
Oceania Chooses Green Energy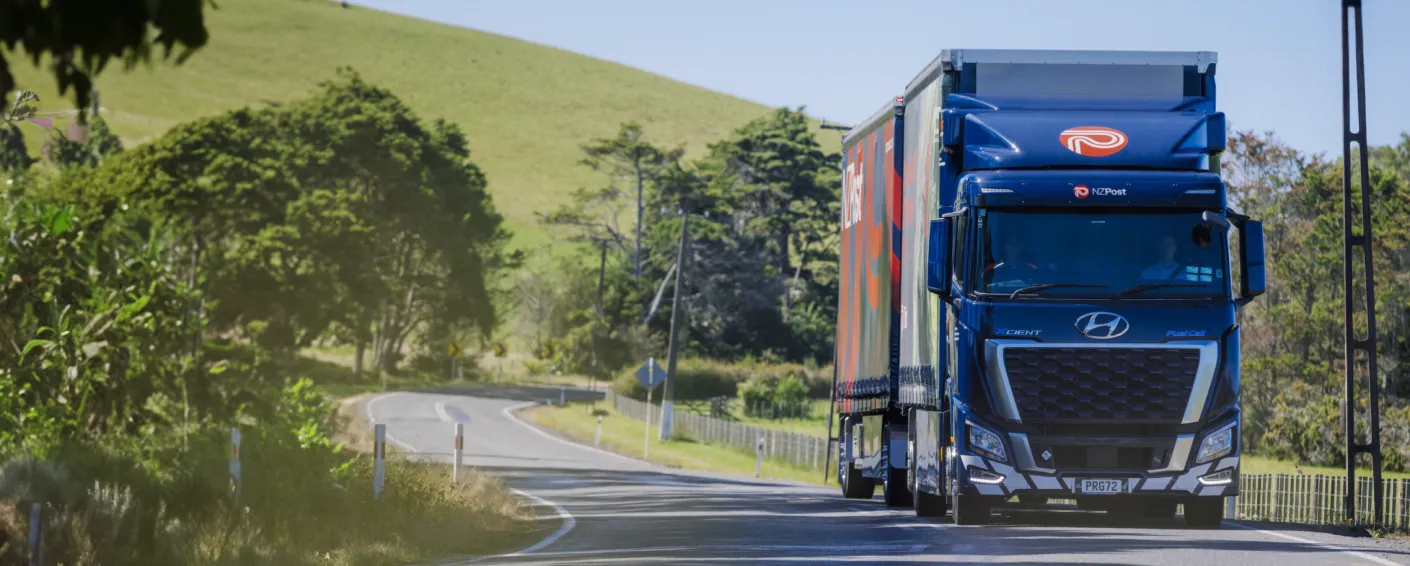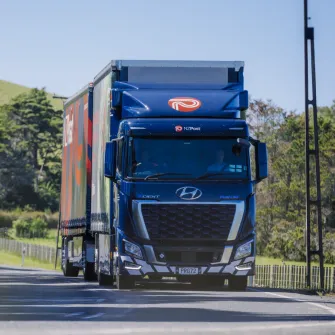 Together with Asia and Europe, Oceania is also emerging as an important market in the world for XCIENT Fuel Cell. Hyundai made headlines as the first hydrogen-powered truck to operate in New Zealand.
New Zealand
New Zealand Post
The XCIENT Fuel Cell Truck delivery to NZ Post marks the first official hydrogen truck commercial delivery to New Zealand. New Zealand authorities have prioritized expanding the country's hydrogen refueling infrastructure.
Activities
Hyundai Electrified Commercial Vehicle